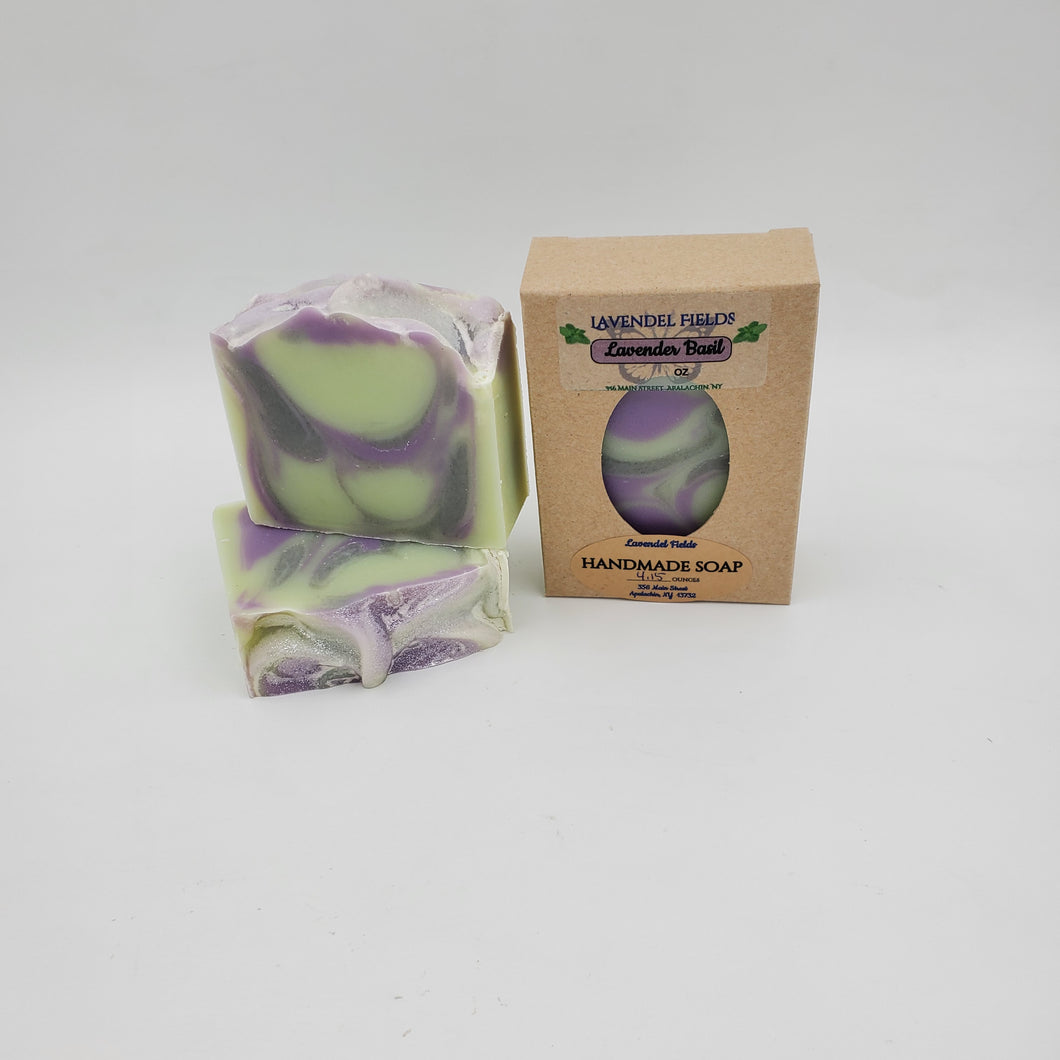 Lavender Basil Soap
The only thing that came to mind when I used this green color is Shrek, so I almost named it Fiona's Love.  My son was addicted to that movie and we had to watch it at least once a day when he was little.
We use the Cold Process Method for most of our soaps.
Our Lavender Basil soap is made with our main Lavendel Fields base, which took us some time to formulate to get the right balance especially with trying to keep all of the ingredients vegan.  
Olive Oil:  offers conditioning and gentleness to the bar with a lot of low lather creaminess.
Coconut Oil:  balances the olive oil by providing cleansing properties and bubbly lather.
Palm Oil:  we only use sustainably sourced palm.  The palm works in conjunction with the coconut oil to produce great lather and a harder bar.
Avocado Oil:  amazing for skin conditioning and that oh so lovely creamy lather.
Cocoa Butter:  with its hydrating benefits, cocoa butter is a must for or soap and also adds to the hardness of the bar.
Sunflower Oil:  skin loving and provides a protective barrier to the skin.  It also adds to the creamy lather.
Castor Oil:  helps to draw moisture to the skin, provides glide to the bar and another oil that contibutes to that stable bubbly lather.
Our Lavender Basil bar is generously scented with Lavender Essential oil and Basil Essential Oil.  I love the smell and taste of basil but wasn't sure about using a bar of soap that smelled like that but the end result was up a refreshing herbal blend.  Our fun swirls are produced by adding a small amount of mica.
Bars are usually between 4 to 4.5 ounces and we always cure our bars for a minimum of 4-6 weeks.
All weights listed are not shipment weight